Members of the Paterson group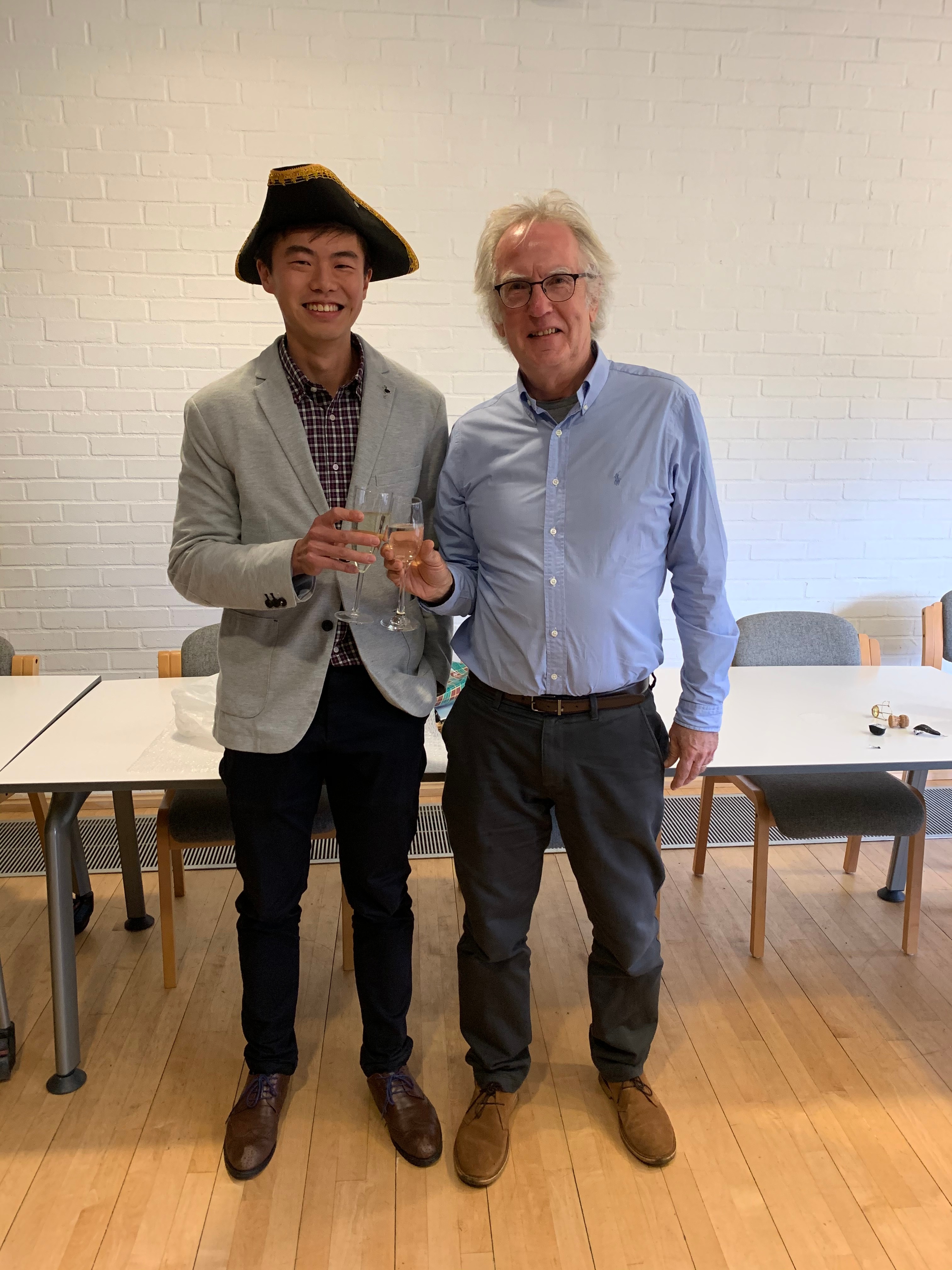 Nelson Lam's viva party, October 2019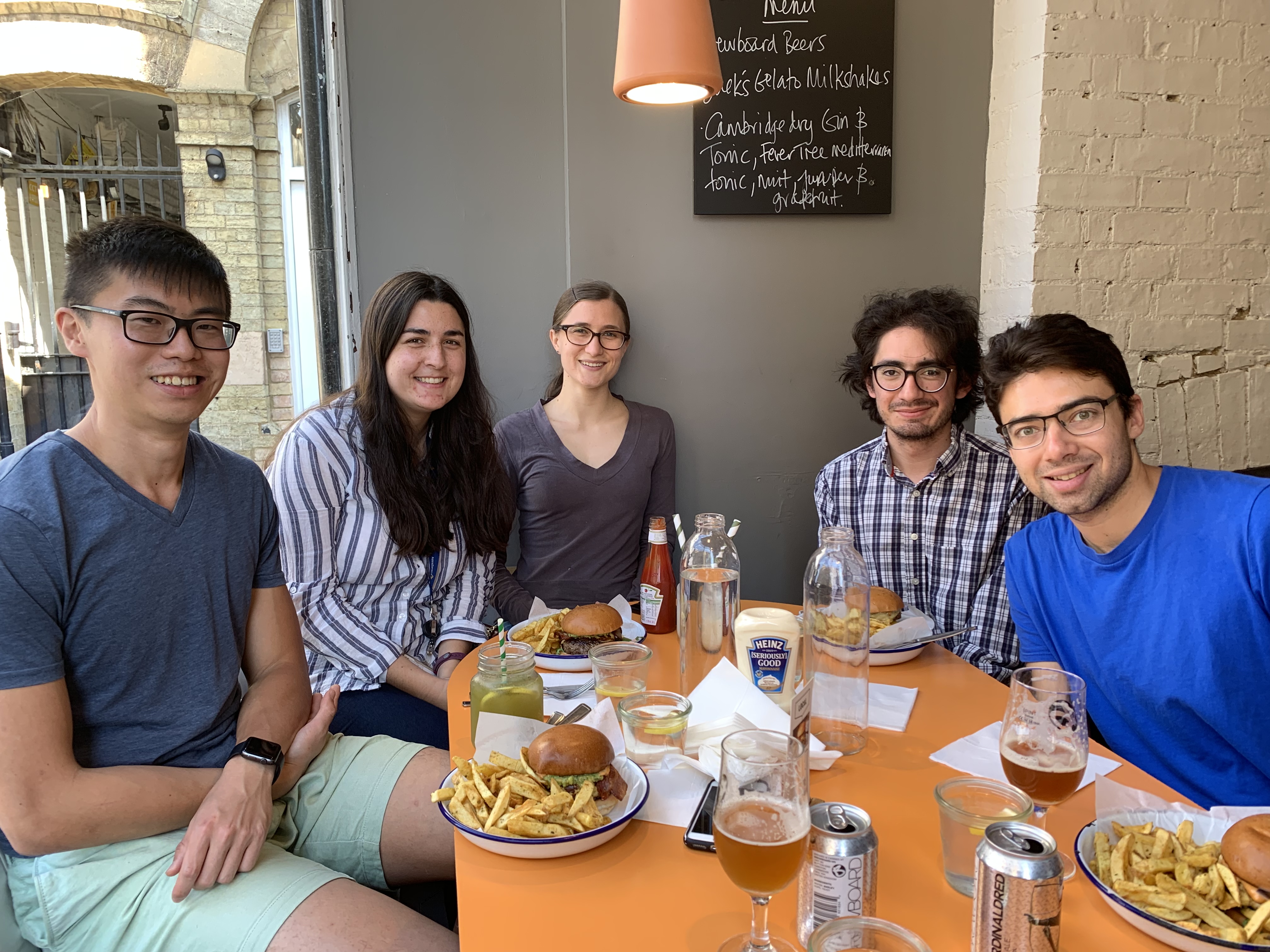 Members of the Paterson Group, August 2019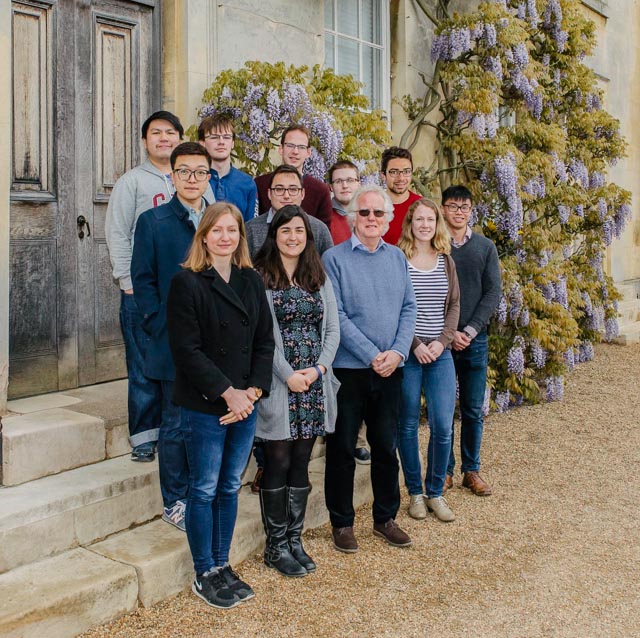 Members of the Paterson Group, May 2017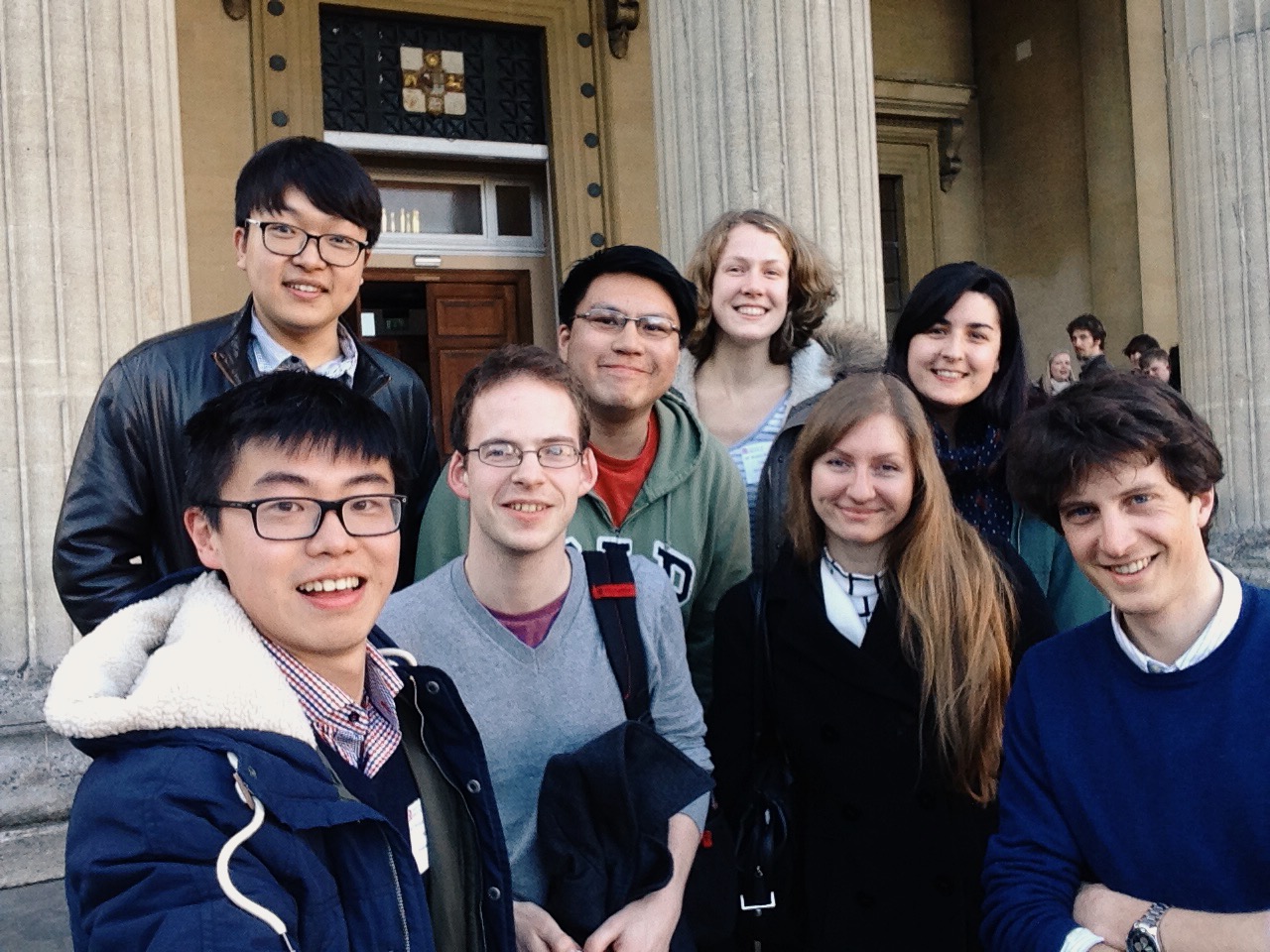 Members of the Paterson Group at the 2015 Bristol Synthesis Meeting
Older group photos: Spring 2015, Spring 2014, Spring 2009, Autumn 2007, Spring 2005.
65th Birthday Group Dinner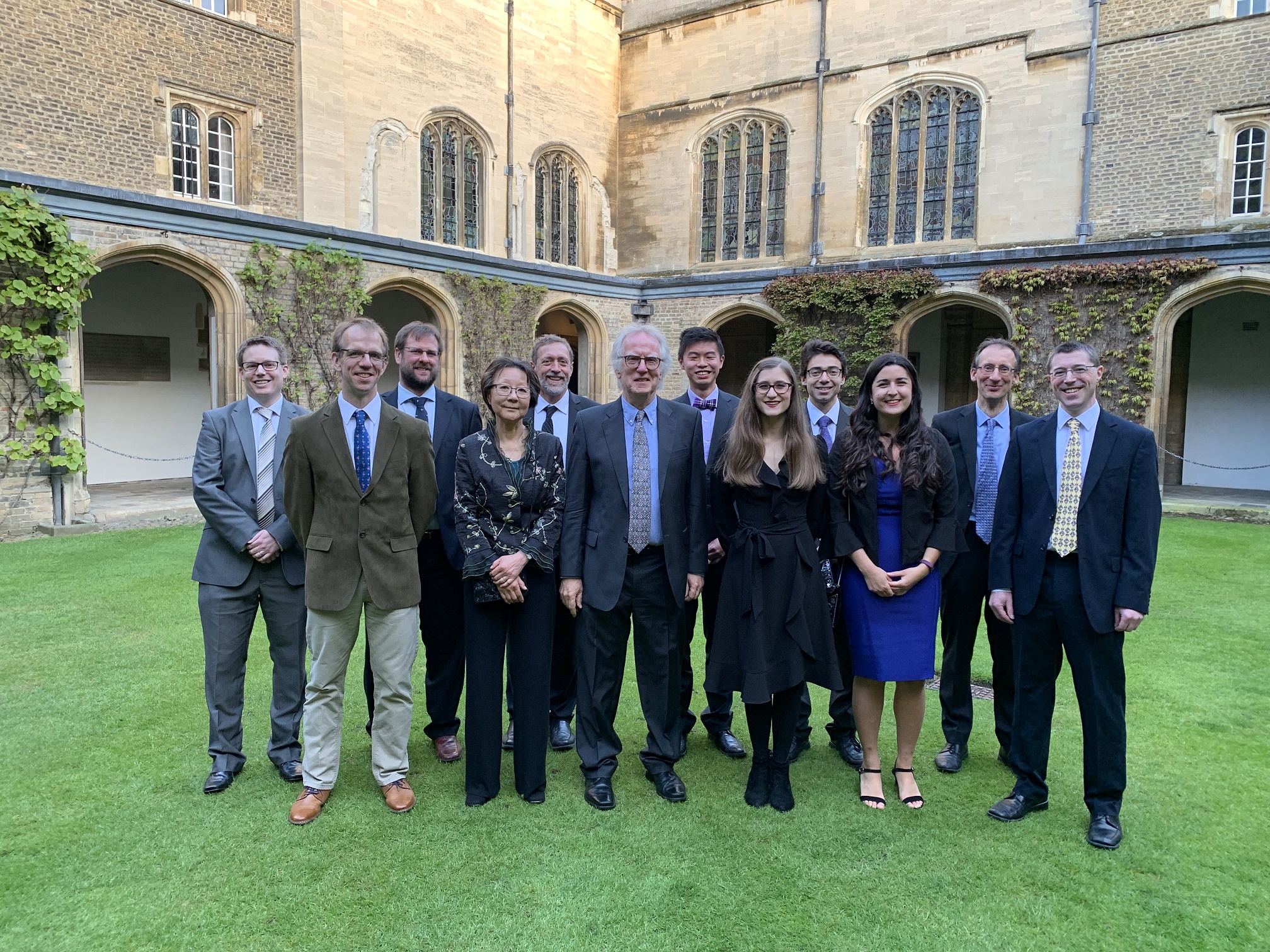 65th Birthday Group Dinner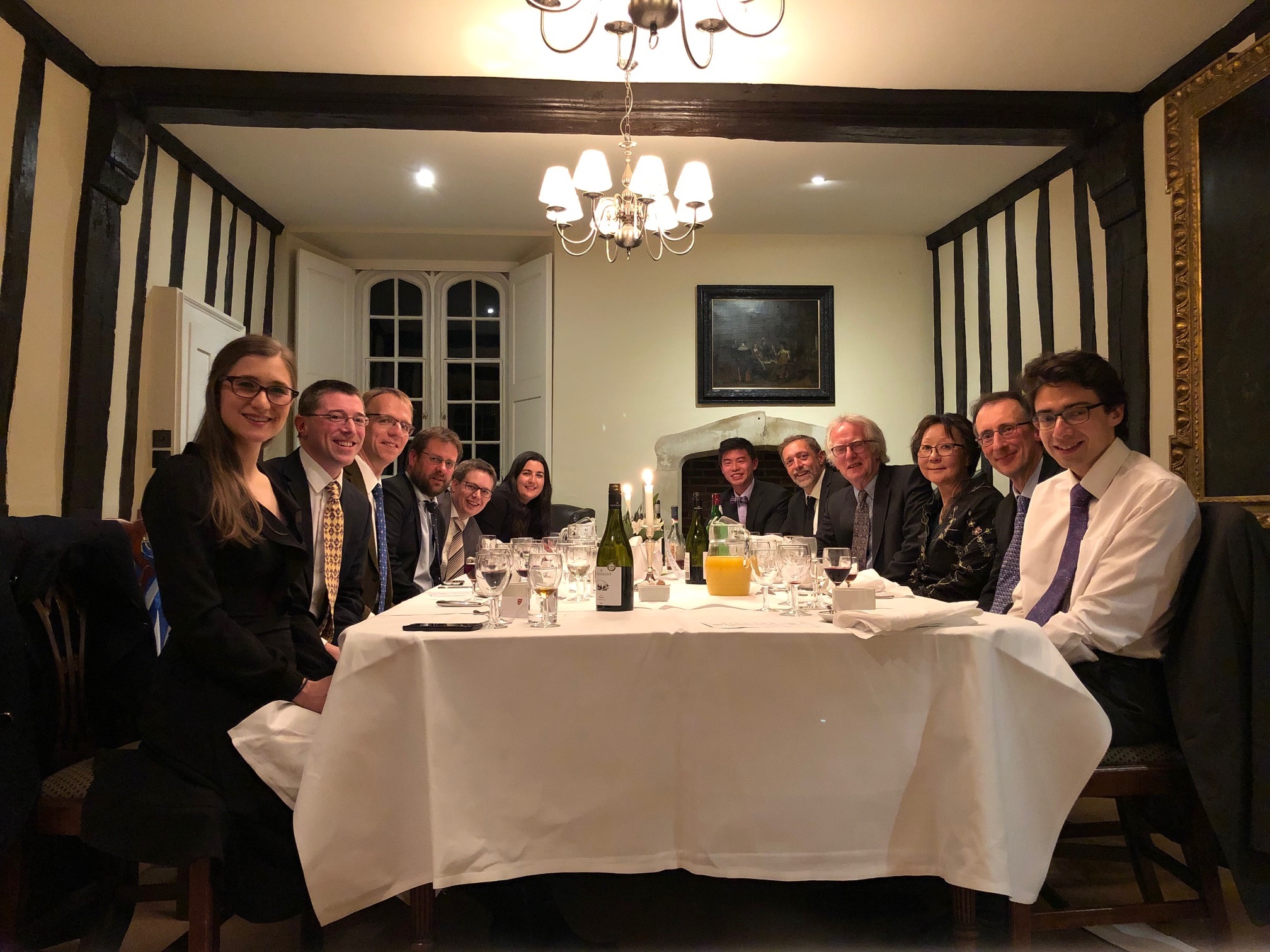 Annual Dinner 2018 at Clare College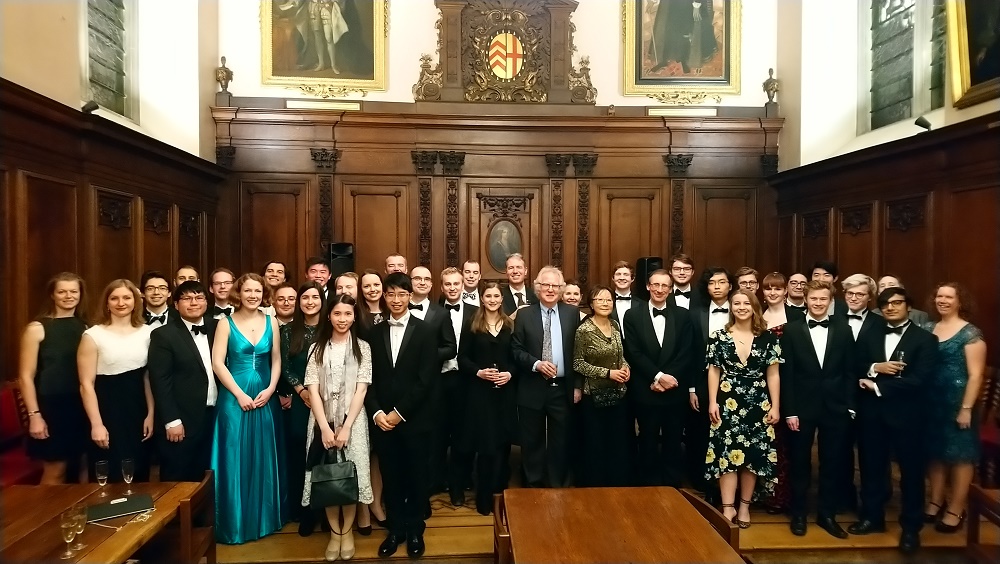 Annual Dinner 2015 at Clare College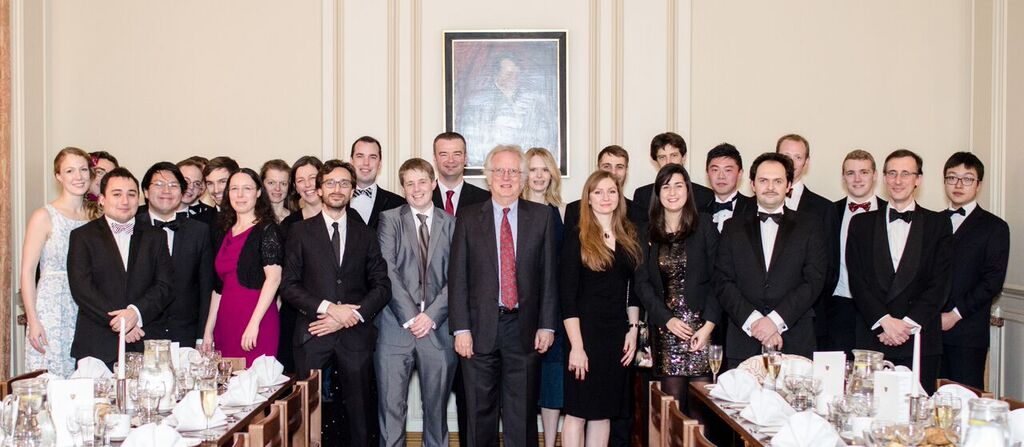 Paterson Group - Current and Former Members

Paterson and Goodman Groups
60th Birthday Symposium
Photos from The Paterson 60-80 Symposium to celebrate both Ian's 60th Birthday and 80th PhD student: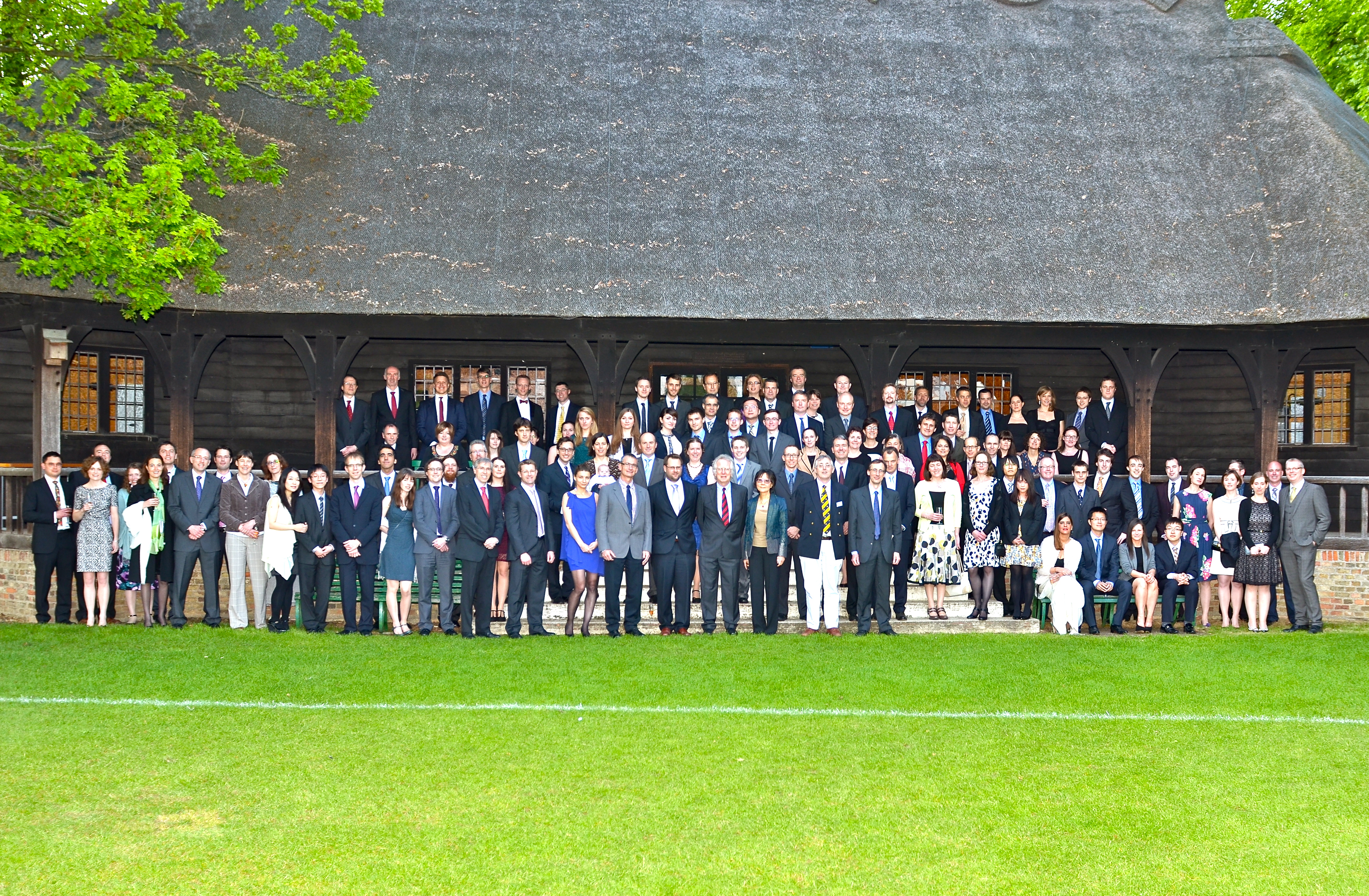 Former Group Members
Click here for a photo of past and present group members from the 50-50 dinner in Summer 2004.
Why not take a look at the GROUP PHOTOS PAGE.
| Name | Email | Now at |
| --- | --- | --- |
| Dr Jose Luis Acena | | Pharmamar, Spain |
| Dr Josep Aiguade | | Almirall |
| Dr Rikki Alexander | | Celltech |
| Charlotte Allerton | | Pfizer, UK |
| Dr Shelley Amendola (nee Bower) | | Sanofi-Aventis Regulatory Affairs |
| Dr Ed Anderson | | University of Oxford |
| Dr Nika Anzicek | | Lek Pharmaceuticals, Slovenia |
| Dr Euan Arnott | | Astra-Zeneca, UK |
| Dr Prabhat Arya | | National Research Council, Canada |
| Dr Kate Ashton | | California Institute of Technology |
| Dr Stephen Atkinson | | GlaxoSmithKline |
| Dr Jordi Bach | | Almirall |
| Dr Hermann Bergmann | | BASF |
| Dr Davis Berrisford | | UMIST |
| Dr Simon Blakey | | Emory University |
| Dr Ian Boddy | | |
| Dr Rob Britton | | SFU, Vancouver |
| Dr Rebecca Brown | | Merck |
| Dr Ivan Burnside | | |
| Dr Paul Burton | | Syngenta |
| Dr Anne Butlin | | |
| Daniel de Carcenac | | Warren Group, Cambridge |
| Dr Giuseppe Cecere | | |
| Dr Julia Channon | | |
| Dr David Chen | | A*STAR, ICES, Singapore |
| Dr Gaelle Chouraqui | | Universite Paul Cezanne d'Aix-Marseille |
| Dr Mike Crabtree | | |
| Dr Lynne Collett | | University of Pretoria |
| Dr Chris Cordier | | MIT |
| Dr Mark Coster | | Australian National University |
| Dr Cameron Cowden | | Merck, UK |
| Dr Peter Craw | | |
| Dr John Cumming | | AstraZeneca |
| Dr Stephen Dalby | | Scripps |
| Dr Robert Davies | | AstraZeneca |
| Dr Oscar Delgado Gonzalez | | Janssen-Cilag, Spain |
| Dr Darren Derksen | | St. Francis Xavier University, Canada |
| Dr Chris De Savi | | AstraZeneca |
| Dr Emilia Di Francesco | | Merck |
| Dr Monica Donghi | | Sanofi-Aventis, Germany |
| Dr Vicky Doughty | | Merck, UK |
| Dr Klaus Fessner | | Pharma-Zentrale |
| Dr Alison Findlay | | ANU, Canberra |
| Dr Sarah Fink | | |
| Dr Ray Finlay | | AstraZeneca, UK |
| Dr Gordon Florence | | University of St Andrews, UK |
| Dr Alison Franklin | | Exeter University, UK |
| Marta Galobardes | | University of Barcelona, Spain |
| Dr Mark Gardner | | Pfizer, UK |
| Dr Nicola Gardner | | Shell |
| Dr Julien Genovino | | Novartis |
| Dr Kai Gerlach | | Boehringer-Ingelheim, Germany |
| Dr Lisa Gibson | | |
| Dr Karl Gibson | | Pfizer, UK |
| Dr Jonathan Goodman | | University of Cambridge, UK |
| Dr Jake Goodwin-Tindall | | Britton Group, SFU, Canada |
| Dr Dirk Gottschling | | Bayer Healthcare |
| Dr Anders Hakansson | | University of Oxford, UK |
| Dr Patrick Haley | | |
| Dr Bing Yuan Han | | Sygnature Discovery, Nottingham |
| Dr Greg Haslett | | UBC |
| Dr Annekatrin Heimann | | Universitaet Konstanz |
| Dr Andrew Hodgson | | |
| Dr Frank Hoefer | | BASF AG Ludwigshafen, Germany |
| Dr Mike Housden | | Gaunt Group, University of Cambridge |
| Dr Alison Hulme | | University of Edinburgh, UK |
| Dr Jame Hutchinson | | RSC, Cambridge |
| Dr Mark Jacobs | | |
| Dr Jennifer Kan | | |
| Dr Hassan Khan | | |
| Dr Linda Keown | | Merck, UK |
| Dr Jim Kinnaird | | Pfizer, UK |
| Dr Henner Knust | | Roche, Basel |
| Dr Doris Kremzow | | BASF, Germany |
| Dr Toralf Kuhn | | BASF, Germany |
| Dr David Laffan | | AstraZeneca |
| Dr Nelson Lam | | Scripps |
| Dr Lydia Lee | | |
| Dr Volker Leue | | |
| Dr Volker Leue | | |
| Dr Mungyuen Li | | |
| Dr Jong-Ho Lim | | |
| Dr Martin Lochner | | University of Bern, Switzerland |
| Dr Olivier Loiseleur | | Syngenta, Basel |
| Dr Henry-Georges Lombart | | Wyeth, Boston |
| Dr Adrian Longstaff | | Syngenta, UK |
| Dr Katrin Lorenz | | Sanofi-Aventis |
| Dr Chris Luckhurst | | AstraZeneca |
| Dr Isabelle Lyothier | | Idorsia Pharmaceuticals, Switzerland |
| Dr Callum MacGregor | | Evotec (UK) |
| Dr Angela Mackay | | Merck, Rome |
| Dr Phil Maltas | | |
| Dr Jocelyn Man | | Merck |
| Dr Rudy Marquez | | University of Dundee, UK |
| Dr Manuel Martin-Carmona | | University of Barcelona |
| Dr Ian Mason | | |
| Dr Malcolm McLeod | | University of Sydney |
| Dr Cynthia McClure | | Montana State University |
| Dr Dirk Menche | | GBF, Hannover |
| Dr Arndt Meyer | | Novartis, Basel |
| Dr Natalie Miller | | Pfizer, UK |
| Dr Christian Moessner | | Solvias, Basel |
| Dr Fritz Muehlthau | | Bayer Crop Science |
| Dr Teiichi Murakami | | |
| Dr Guy Naylor | | |
| Dr Kenneth Ng | | University of Hong Kong |
| Dr Roger Norcross | | Roche |
| Dr Thorsten Norwak | | AstraZeneca |
| Dr Christian Noti | | Lonza, Visp |
| Dr Renata Oballa | | Merck, Canada |
| Dr Matthew O'Brien | | University of Cambridge, UK |
| Dr Jesus M. Ontoria | | Merck, Italy |
| Dr Simon Osborne | | Pfizer |
| Dr Tanya Paquet | | |
| Dr Mariella Passarelli | | University of Maine, USA |
| Dr Shailesh Patel | | |
| Dr Michael Perkins | | Flinders University, Australia |
| Dr Talia Pettigrew | | Chartwell Consulting, Berlin |
| Dr Andrew Philips | | Sygnature Discovery, Nottingham |
| Dr Karine Poullennec | | Vernalis, UK |
| Dr Volker Rahn | | |
| Dr David Rawson | | Pfizer, UK |
| Dr Mina Razzak | | University of Texas, Dallas |
| Dr Pedro Romea | | Universitat de Barcelona |
| Dr Philipp Rubenbauer | | Bayer |
| Dr Glen Ryan | | |
| Dr Achim Schlapback | | |
| Dr Russel Schumann | | |
| Dr Christian Schünke | | |
| Dr Jeremy Scott | | Merck (Dev. Lab.) |
| Dr Natascha Sereinig | | DSM |
| Dr Iain Simpson | | AstraZeneca |
| Dr Jeff Smaill | | University of Aukland, NZ |
| Dr Julian Smith | | Pfizer, UK |
| Dr Jonathan Stafford | | Carpmaels & Ransford |
| Dr Ian Stansfield | | Merck |
| Dr Alan Steven | | University of California, Irvine |
| Dr Davina Stevenson | | |
| Dr Yuichi Tateno | | GlaxoSmithKline, UK |
| Dr Taoues Temal | | |
| Dr Richard Tillyer | | Merck |
| Dr Thomas Trieselmann | | Boehringer Ingelheim |
| Dr Malisa Troutman | | |
| Dr Matthew Tudge | | Merck, USA |
| Dr Sylvia Valazquez | | |
| Dr Rainer Vogel | | Rockwell Automation LifeSciences |
| Dr Debra Wallace | | Merck, UK |
| Dr Paul Wallace | | Xennia Technology |
| Dr Richard Ward | | GlaxoSmithKline |
| Dr Christine Watson | | Pfizer, UK |
| Dr Nicholas White | | Tessenderlo |
| Dr Liz Williams | | CSIRO, Australia |
| Dr Simon Williams | | Syngenta |
| Dr David Wong | | University of Sydney, Australia |
| Dr Mike Woodrow | | GlaxoSmithKline, UK |
| Dr Stephen Wren | | University of Oxford |
| Dr Mengyang Xuan | | UBC |
| Dr Kap-Sun Yeung | | Bristol-Myers Squibb |
| Dr Adam Yip | | Cancer Research UK, London |